If you are struggling to find the perfect outfit for a wedding, a date or a party, we've got you covered with our wide range of women to bandage dresses to fit all your occasions. Set the stereotypical dresses ideas aside and choose a chic bandage dress by Hsana Fashion to be the best dressed and a head-turner. Shop from dresses below to look prettier chic sophisticated yet glamorous.
Amethyst is a breath-taking piece of art; beautiful fashion designer style black bandage dress with lace details and signature curve-hugging fit is all you need to show off your feminine figure. An outfit that will leave everybody speechless with its sophisticated chic look. Its design is nothing less than a piece of art; fashionably designed to trace your curves and provide support to your body. Its Crafted from quality bandage material with a see-through back and front to compliment the female profile.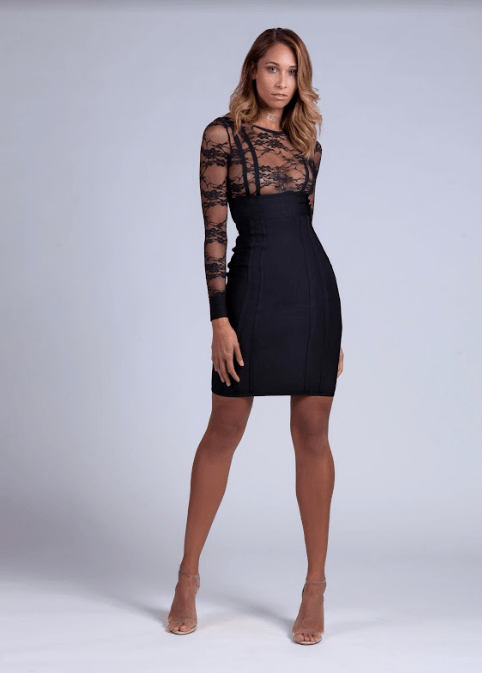 A knitted long sleeve women's bandage dress amazingly designed to flatter your curves. It is a dress that seems as if its straight out of fashion heaven with its cleverly placed lace paneling, long sleeves and gorgeous bandage which makes it a perfect pick for winters! One thing that sets Athena apart from any other dress is that it compromises neither comfort nor sexiness. A dress that will keep you fashionably warm. Its sheer minimalist black lace paneling makes it a sophisticated yet versatile dress perfect for any occasion be it a formal or semi-formal event.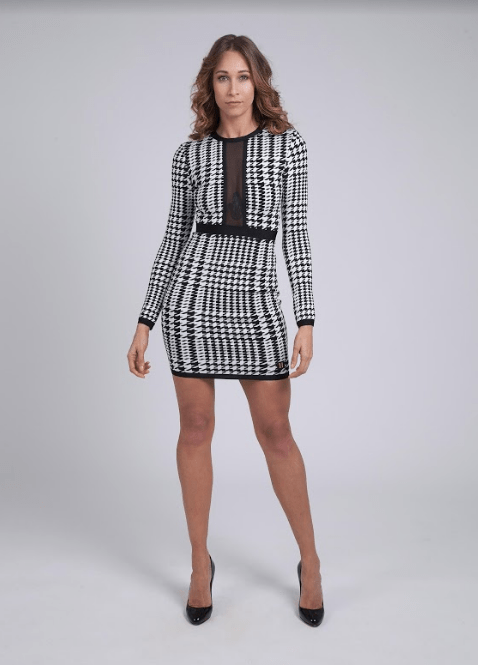 Aurora is an amazing figure-defining black women's bandage dress ornamented with high-shine jewelry grommets is a must-have for this festive season. Cut shoulders and side slit adding more grace to this beautifully designed dress. This dress perfectly defines elegance with its black color and unique cuts. This quintessential dress is a perfect pick for an evening event.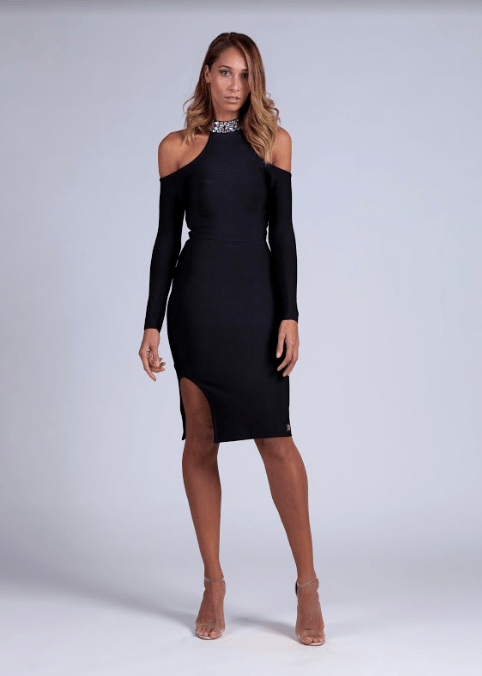 Celesta by Hsana Fashion is a unique party dress which is iconic yet sensual. It's a black bandage dress with décolletage neckline, empire waist and fluted knee-length hem making this outfit a perfect example of minimal sophistication. Especially the cutwork detailing on this dress makes it one of a kind. With its unique design Celesta is specifically crafted to set you apart from the crowd wherever you go!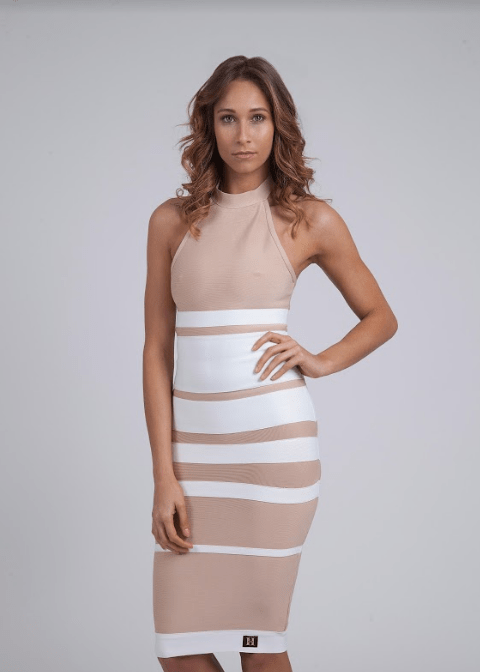 If you want to feel breathtakingly sexy, then Carrie, a sleeveless creation by Hsana Fashion crafted from sculpting bandage is all that you need. A nude fashion designer style bandage dress designed to perfection for celebrating your curves with Its high neckline and striped design makes it a must-have for any occasion.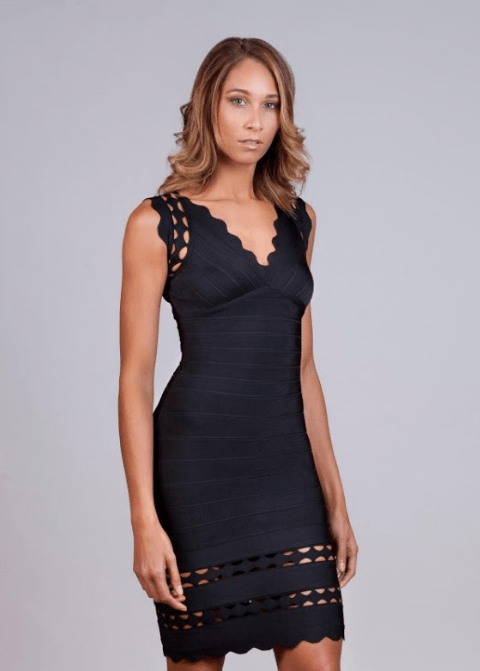 A unique piece from the best of bandage dresses in UK, it's eye-catching color and sophisticated geometric pattern gives it a chic look. The sensual details on it are designed to highlight your best assets; its chic off shoulders add more class and elegance to the dress. Its a body-coon dress with a silhouette that will redefine sexy and sensual fashion for this festive season.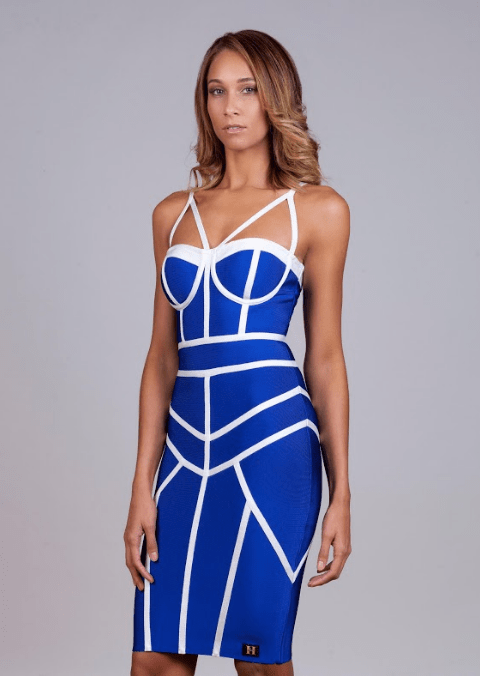 A made-for-you design that will fit perfectly on your body to exhibit your curves. Hsana Fashion white bodycon bandage dress is made to add a glamorous effect to your look; making you look remarkable because of its round neckline and low back. You can make a prominent impression in Hsana Fashion signature creation.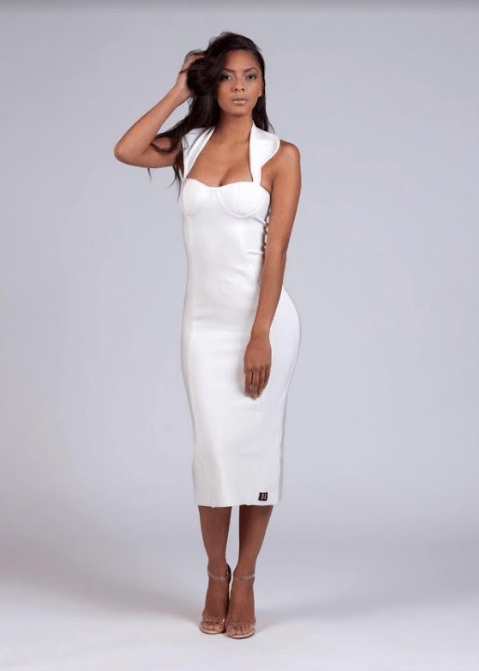 Lyvia is a heavenly nude unique party dress with captivating mermaid-inspired shape, strapless cut and a gorgeously feminine fluted hem making it look like a design straight out of a Hollywood fairy-tale. Its unique design exhibits glamour, vintage and immeasurably sexy silhouette fabricated to highlight your curves featuring near-seamless bandage work. If you are a freak for strapless bandage dresses, then Lyvia is a must-have because of its intricate gold foil finish.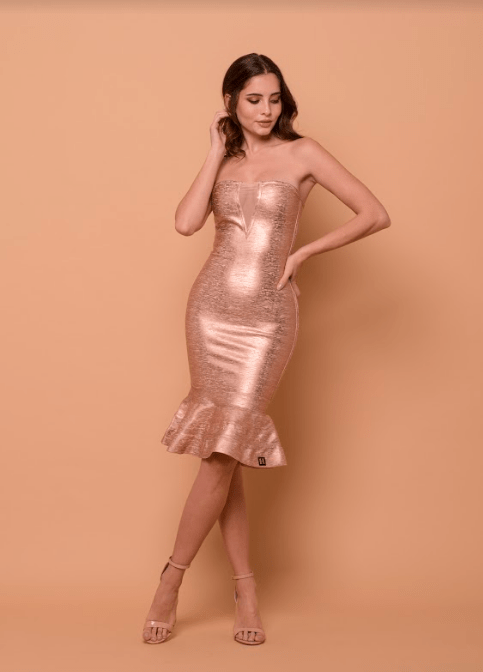 A perfect pink bandage dress for this summer season giving us all the cool vibes. Body-coon dress by Hana Fashion is set to make you look elegant with its hugging Ponte knit detailed contrast basket-weave stitching and thin bandage that will highlight your silhouette. Its elegant yet classy look makes this figure-defining dress an essential for summer occasions.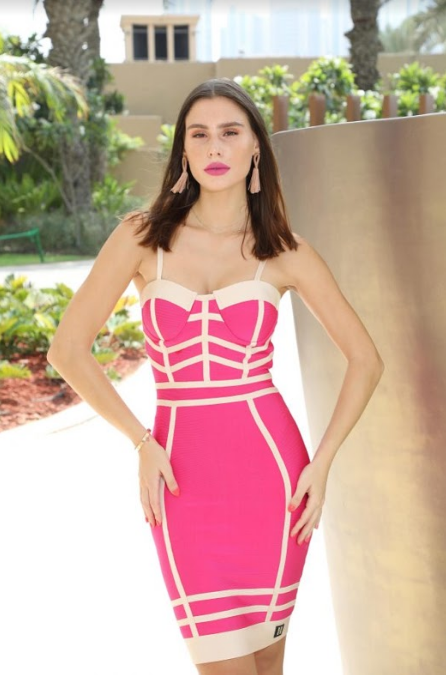 Breathtakingly beautiful red fashion designer style bandage dress embellished with lustrous strands of asymmetrically draped fringe giving a luxurious yet classy look. The gold detailing on waist and neckline adds to the elegance of this stunningly unique piece. Everything about it is so fabulous that you must have it for any of your occasion if you wish to stand out!
Check out Hsana Fashion entire range to find out more about the latest trends!